The patrol and the Savior of the family of Kiev presented the icon and awarded the badge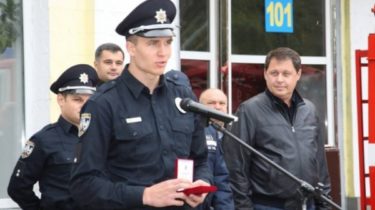 The patrol and the Savior of the family of Kiev presented the icon and awarded the badge
Kiev
8 Oct, 15:58
1 of 5

© SSES

1 of 5

© SSES

1 of 5

© SSES

1 of 5

© SSES

1 of 5

© SSES
© SSES

© SSES

© SSES

© SSES

© SSES
He rescued people during a fire, risking their own lives.
Today, October 8, in Kiev, on the territory of a fire brigade № 9 was held a ceremony of awarding the patrol Vyacheslav Kharchenko, who saved a family during a fire on 5 October.
Reports a press about it-service gschs.
See also: the Murder of state trooper forced the cops to forget about softness and to think about fire training
For bold and decisive action by the head of gschs Nikolai Chechetkin awarded second Lieutenant badge "For courage in an emergency".
"These good citizens, like Vyacheslav, the future of our state. They begin changes in the country and the formation of voluntary fire brigades. In order to save someone's life, not necessarily to be a professional lifeguard. It's enough to have a change of heart and caring soul. Therefore, I have suggested Vyacheslav become the No. 1 in lists of doborovoltsev fire. After all, reform is the courage of citizens like it," – said Chechetkin.
Also to the memory of the joint work of rescue Nikolai Chechetkin gave the hero the icon of the Burning Bush.
Police hero: a young patrol rescued a family from a burning house
TSN. Pdsmi day
7 Oct, 01:07
Patrol Vyacheslav Kharchenko are not used to the cameras and excessive attention of journalists. A little embarrassed, telling the story of salvation. His crew arrived on a call rather fire. Your heroic act is not considered.
Add to favourites
Recall, patrol Vyacheslav Kharchenko saved the family during the fire, risking his own life on 5 October. His crew arrived on a call rather fire.
Comments
comments