At the airport during flight detained a man who opened fire in a cafe in Kiev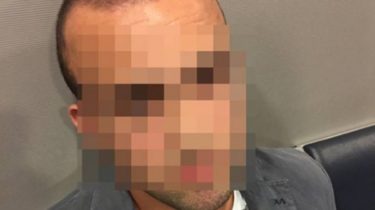 At the airport during flight detained a man who opened fire in a cafe in Kiev
Kiev
October 2, 11:55
1 of 5

© State of National police of Ukraine in Kiev

1 of 5

© State of National police of Ukraine in Kiev

1 of 5

© State of National police of Ukraine in Kiev

1 of 5

© Еспресо.TV

1 of 5

© Еспресо.TV
© State of National police of Ukraine in Kiev

© State of National police of Ukraine in Kiev

© State of National police of Ukraine in Kiev

© Еспресо.TV

© Еспресо.TV
The suspect tried via Istanbul to fly to Antalya.
Yesterday, 1 October, in the evening at the airport "Borispol" militiamen detained the man whom suspect in Saturday's shooting at a cafe in the Victory Avenue in Kiev. Then gunshot wounds to the legs and in the groin got a 41-year-old visitor to the institution, he survived. Before that, between men of the conflict occurred. The shooter immediately fled the scene.
"A few hours after the crime the staff of the Shevchenkovsky police Department together with employees operatively-search Department a separate checkpoint "Kyiv" the State border service of Ukraine and security Service of Ukraine detained the suspect at the airport "Borispol". The attacker – a previously convicted 24-year-old resident of Zhytomyr region, tried through the Istanbul to Antalya run", – reported in the Department of communication of the police of Kiev.
Male involvement in the crime admitted to it threatens till 15 years of imprisonment.
In the center of Kiev the verbal conflict between the men ended in gunfire
TSN. 19:30
1 Oct, 20:06
In a cafe in the Victory Avenue after a verbal conflict between two men, one pulled a gun and fired several shots. The victim has a gunshot wound to the groin and both hips. He was hospitalized and operated. Police still do not know the weapon was combat or traumatic, its owner disappeared.
Add to favourites
Comments
comments