Spooky night crash on the outskirts of Kiev: a car was ripped apart, killed four men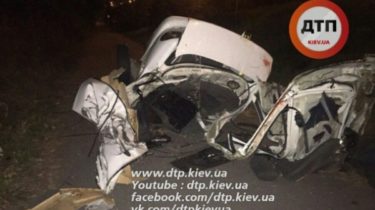 Spooky night crash on the outskirts of Kiev: a car was ripped apart, killed four men
Kiev
2 Oct, 08:30
1 of 10

© dtp.kiev.ua

1 of 10

© dtp.kiev.ua

1 of 10

© dtp.kiev.ua

1 of 10

© dtp.kiev.ua

1 of 10

© dtp.kiev.ua

1 of 10

© dtp.kiev.ua

1 of 10

© dtp.kiev.ua

1 of 10

© dtp.kiev.ua

1 of 10

© dtp.kiev.ua

1 of 10

© dtp.kiev.ua
© dtp.kiev.ua

© dtp.kiev.ua

© dtp.kiev.ua

© dtp.kiev.ua

© dtp.kiev.ua

© dtp.kiev.ua

© dtp.kiev.ua

© dtp.kiev.ua

© dtp.kiev.ua

© dtp.kiev.ua
The probable cause of the accident is called speeding.
Today, 2 October night on the outskirts of Kiev to Zhitomir highway Daewoo Lanos, most likely at high speed, crashed into a rod.
From strong blow the car tore into two parts. The accident instantly killed four men 25-40 years old, their body parts scattered on the road within a radius of 100 meters. Reports about it "Эспрессо.TV".
We will remind, in Kiev the unknown at great speed brought down 9-the summer girl on "Zebra". Her parents will claim the arrangement of the dangerous intersection.
Comments
comments