Balcon "blackmailing" of heads of branches of "Ukrzaliznytsya" with dismissal and forced them to write statements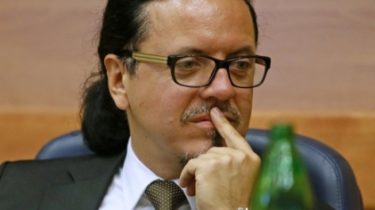 Balcon "blackmailing" of heads of branches of "Ukrzaliznytsya" with dismissal and forced them to write statements
© UNIAN
Top managers have written statements without a date.
All heads of regional branches of "Ukrzaliznytsya" forced to write application on dismissal, without specifying the date. Their jobs they may lose if will not take part in resolving the crisis in freight transportation.
On this day, October 7, during a meeting in the Ministry of Infrastructure on the issue of the transportation of grain, iron and steel goods by rail, said the head of "Ukrzaliznytsya" Wojciech Balczun, reports "Center of transport strategies".
"All heads of regional branches have written applications on dismissal on my name, no date. And if they will not contribute in solving problems in the "Ukrzaliznytsia", the question of their dismissal will be solved in one day," said Balcon.
See also: uz loses billions due to a serious corruption in the company – Balcon
He added that Ukrzaliznytsia has changed the system of assessment of the suitability of the cars.
"We changed the content of the wagons, we turn to the evaluation of the technical condition of cars, not their age. If not for that, by the end of the year would 26 thousand cars," – said the official.
Now finish the procedure with the European Bank for reconstruction and development for the purchase of three thousand cars.
First Deputy Minister of infrastructure Evgeny Kravtsov proposed to impose sanctions for entities that bought the cars, but don't use them.
"This should not be. Will have to impose certain restrictive measures," – said Kravtsov.
Recall, "Ukrzaliznytsya" has changed the rules of reservation of tickets and promises more space for passengers.
Comments
comments