Clinton VS trump. On the eve of the debates, the Network appeared the videopedia rap battle between the candidates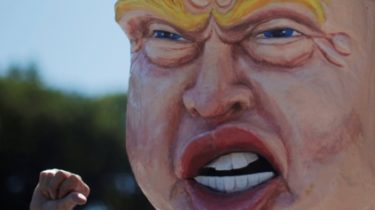 Clinton VS trump. On the eve of the debates, the Network appeared the videopedia rap battle between the candidates
© Reuters
In videoparty remembered the scandals of both candidates in US presidents.
Online on the pages of the publication Sky News on Youtube appeared videopedia where people who look like trump and Clinton, in the Boxing ring gave a rap battle. The video appeared on the eve of the first televised debates between the candidates for U.S. President.
The video counterpart of Donald trump and Hillary Clinton take turns rapping, thus attempting to defeat each other. So, trump began his speech with the fact that he is the best, all women dream to climb to the trump Tower, and if Clinton is lucky, he'll show her your giant IQ.
See also: trump promised to invite to the debate with Clinton ex-mistress of her husband
Double Clinton, in turn, said that trump despises all women.
"Your campaign is deader for a Guinea pig that you wear on your head," she says.
In addition, the twins reminded each other about the scandal with e-mail and plagiarism-wives trump the speech of Michelle Obama.
Oh, it's on… Introducing the #WhiteHouseRapBattle https://t.co/YdEo1CA8Ia
— Sky News (@SkyNews) September 26, 2016
Recall, today, Monday, September 26, will be held the first televised debate between presidential candidates in USA. So, Donald trump has promised to invite the former lover of ex-President bill Clinton on the debate.
Comments
comments