In Kiev from-for drunk pedestrians had a serious accident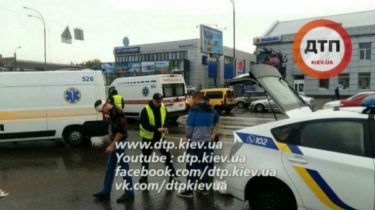 In Kiev from-for drunk pedestrians had a serious accident
Kiev
5 Oct, 19:00
1 of 7

© dtp.kiev.ua

1 of 7

© dtp.kiev.ua

1 of 7

© dtp.kiev.ua

1 of 7

© dtp.kiev.ua

1 of 7

© dtp.kiev.ua

1 of 7

© dtp.kiev.ua

1 of 7

© dtp.kiev.ua
© dtp.kiev.ua

© dtp.kiev.ua

© dtp.kiev.ua

© dtp.kiev.ua

© dtp.kiev.ua

© dtp.kiev.ua

© dtp.kiev.ua
In the accident injured three people.
In Kiev Obolon has occurred a large road accident, which injured three people.
This was reported by the correspondent of TSN.
The incident occurred on the street Novokonstantinovskaya. The driver of the Isuzu was trying to avoid two drunken pedestrians who ran across the road and crashed into an oncoming Subaru.
As reported by TSN, a truck driver, he was trying to avoid pedestrians that were standing right on the roadway, but due to rain and poor visibility collided with a passenger car. Machine spun and pedestrians also sustained damage. The driver of the car was hospitalized in serious condition. Witnesses to the incident claim that the pedestrian was drunk.
Comments
comments