In Kiev reached a record 112-foot floral arrangement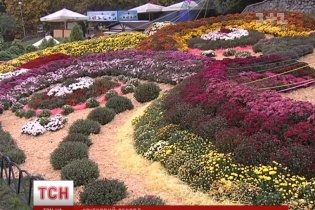 In Kiev reached a record 112-foot floral arrangement
To work used chrysanthemums.
Crisantemo song with a length of more than 112 metres has opened at the Metropolitan Singing field. For her it took 15 thousands of colors, according to a story TSN.19:30.
Employees of Zelenstroy planted the plants for two weeks. Flowers of different varieties and colors took four thousand square meters. The exhibition will run until the end of October. And after that chrysanthemum planted in all districts of the capital.
In August, landscape designers created the Singing field living monuments to outstanding Ukrainians. The flower show they have devoted to anniversary of Independence.
At the Metropolitan Singing field opened a record crisantemo composition
TSN. 19:30
7 Oct, 20:46
Add to favourites
In length it more than 112 meters. 15 thousand flowers employees of "Zelenstroy" planted for two weeks. Four thousand square metres of white, yellow and Burgundy flowers of different varieties. The exhibition will run until the end of October.
Comments
comments