In Ukraine, about 40 percent of accidents happen at crosswalks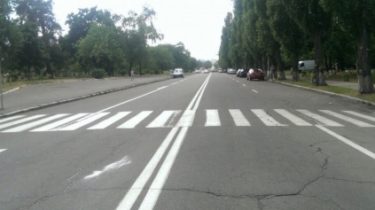 In Ukraine, about 40 percent of accidents happen at crosswalks
© GAI of Kiev
Road users do not respect the most basic rules.
Almost 40% of all accidents occur at crossings. However, don't always blame the drivers. Pedestrians and cyclists also do not observe traffic rules this is stated in the story "Sedanka z 1+1".
Thus, on September 30 in the center of Kiev on the crosswalk car knocked down the child and fled. The incident occurred on the street of Mikhail Kotsyubinsky. 9-year-old girl ran out into transition, but this time on the road moving the car. Foreign car tried to overtake her, but not even slowed down. The driver hit the child, did not stop and fled the accident scene.
In the accident the girl has received cranial-a brain trauma of a closed type, a concussion and multiple bruises.
22-year-old driver who knocked down a schoolgirl in a few days after the accident reported himself to the police. According to him, he got scared and so did not stop after the accident. For such an offence include a fine or up to 3 years of imprisonment.
Note that such cases for Ukraine is not news. Almost 40% of all accidents occur at crossings.
See also: Top 10 car accident in Ukraine: a compilation of the most horrible accidents in a week
However, apart from the fact that drivers often violate traffic rules, pedestrians are also bad stick to them. To minimize the number of deaths due to road accidents, you need to remember the following simple rules:
1. Before jump jump, you need to look first left, then right.
2. Not to ignore the signs of traffic light.
3. Cross the road only at those places where there are pedestrian crossings.
4. In the dark you need to be extremely careful even on a Zebra crossing, drivers and pedestrians.
5. Remember that drivers do not notice pedestrians are unpredictable.
6. Parking near the pedestrian crossing permitted at a minimum distance of 10 meters from the start Zebra, and stops at a distance of 10 meters.
We will remind, earlier it was reported that in Kiev on the pedestrian crossing, the driver at high speed hit a man in a wheelchair and fled the accident scene.
Comments
comments