Lithuanian citizen was arrested for sales of methamphetamine in large amounts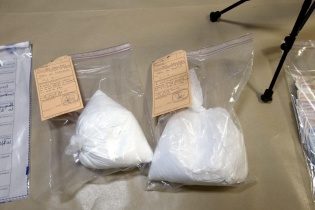 Lithuanian citizen was arrested for sales of methamphetamine in large amounts
© Var-matin
The man was detained "on hot" during receiving 10 thousand UAH for the sale of psychotropic substances.
The court for 2 months made a citizen of the Republic of Lithuania, who is suspected of distribution of methamphetamine.
About it reported in a press-service of Prosecutor's office of Kiev region.
"The court, having satisfied the petition of the Department of Vasylkiv, Kyiv-Svyatoshinsky local Prosecutor's office, chose a measure of restraint in the form of detention with alternative bail of $ 116 thousand hryvnias 42-year-old citizen of the Republic of Lithuania", – stated in the message.
The Ministry said that the Lithuanian citizen was detained "on hot" by employees of the Vasilkovsky city Department of Kyiv-Svyatoshinsky local Prosecutor's office together with the Vasilkovskaja police Department and Fastovsky Gro GU SBU during receiving funds in the amount of 10 thousand hryvnias from men for sale of psychotropic substance methamphetamine in large sizes.
The attacker reported suspected of committing a criminal offence under article "Illegal production, production, acquisition, storage, transportation, shipment or sales of narcotic drugs, psychotropic substances or their analogues". This article provides responsibility in the form of imprisonment till 10 years with confiscation of property.
Recall that in the hotel the Russian city of Saint Petersburg was an attempted poisoning in the state Department and the U.S. Department of justice. A man and a woman from the USA arrived in Russia on diplomatic passports, to participate in the conference on the fight against corruption. It is alleged that in their drinks, most likely in the hotel bar, where they lived, put a psychoactive substance is the so-called "rape drug to date".
Comments
comments