On the Luhansk region military Russia drunk hit and killed a woman – intelligence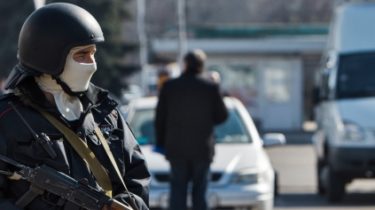 On the Luhansk region military Russia drunk hit and killed a woman – intelligence
© Getty Images
A Russian officer was drunk behind the wheel of the official car.
In Kadyivka drunk Russian soldier driving a company car fatally hit on a local woman.
About it reported in a press-service GU of the Ministry of defense intelligence of Ukraine.
"October 9, in kadievka (former Petropavlovsk) the captain of the armed forces of the Russian Federation from the self-propelled howitzer artillery battalion 7 separate mechanized infantry brigade (Bryanka) 2 AK (Lugansk), the armed forces made hit by the official car of the local resident", – stated in the message.
According to scouts, in result of road accident the woman died, and outfit "road police DNR", who arrived on the scene, found that the officer was drunk.
"During the Protocol, the soldier resisted and said that it has "immunity" because it applies to the Armed forces of the Russian Federation, in particular, came from 70 separate motorized rifle brigade 5 army (Ussuriysk) Eastern military district (Khabarovsk) the armed forces of the Russian Federation", – added in Department.
After that the Russian military was arrested and taken to the station. Now "the Ministry of security DNR" is trying to prevent the publication of the arrest report of officer.
We will remind, earlier in the Donbass, the Russian military blew up on a mine when he tried to Rob the cellar. Local residents have set mine to protect from looters.
Comments
comments