The three suspects in the robbery of a gas station and the shooting of law enforcement officers was sent back to jail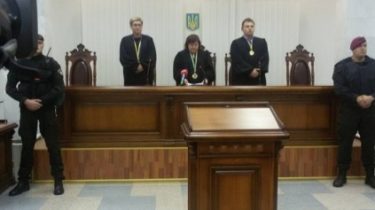 The three suspects in the robbery of a gas station and the shooting of law enforcement officers was sent back to jail
© photo by Oksana Mulyar/TSN
The court decided to keep people in custody.
After nearly 10 hours of waiting journalists in the evening let on the court, where the suspect in the attack on the gas station and the murder of law enforcement officers a year and a half ago in Kiev to elect a preventive measure. Before the court could not do it and Saturday was the deadline of stay of three detainees in custody, according to a story TSN.19:30.
Protection insisted that the meeting should be postponed given the state of health of Victoria Zaviruha, which before were taken directly from the courtroom. To her, the doctors diagnosed her with acute pancreatitis and had to have an operation to remove the Appendix.
The journalists were allowed to attend the hearing for suspects in the murder of police officers
TSN. 19:30
1 Oct, 20:02
Add to favourites
In the capital elected a measure of restraint VIth the Zavirukha, Andrey Romanyuk and Eugene Koseluk. Vitu was brought to the court from the hospital, she announced her diagnosis – acute pancreatitis. In the evening the journalists allowed to go into the courtroom, after the intervention of Deputy Igor Lutsenko.
The trial began with the fact that it was announced that the detention of the suspects has expired and they are released into the wild. However, the investigator immediately arrested all the suspects on new charges – disorderly conduct. However, the court considered the measure of restraint to it, and on the old case, with regard to the events at the gas station in spring 2015. Lawyers tried to challenge this, but in vain.
The people's Deputy Igor Lutsenko offered to take all of the defendants on bail. However, he was denied. In the end, the court ruled a suspect Victoria Zavirukha, Andrey Romanyuk and Eugene Kosheluk are the same measures that were in them until this Saturday – detention in jail Lukyanovka capital. The behavior of law enforcement officerswho for a long time did not allow journalists in an open meeting, so anybody not yet explained.
The TSN reporter Oksana Mulyar
Comments
comments