The British foreign office has called for new sanctions against Russia because of the atrocities in Syria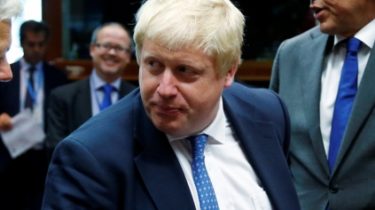 The British foreign office has called for new sanctions against Russia because of the atrocities in Syria
© Reuters
Johnson called antiwar group to protest at the embassies of the Russian Federation.
The British foreign Minister, Boris Johnson has warned Russia that it risks becoming a pariah if it continues to bomb civilian targets in Syria.
About it writes Reuters.
He said that other countries should impose on Moscow additional sanctions and called to hold a protest at the Russian Embassy.
The Minister noted that all available evidence points to the fact that "Russia is responsible for the atrocities" are taking place in Syria. He said that other countries should impose tougher sanctions.
Read also: Hollande does not exclude the criminal trial of Russia for war crimes in Syria
Earlier human rights activists estimate that Russian bombers in the last year killed nearly 9.5 thousand Syrians. Three times more people were injured.
Full termination of cooperation with Russia on the Syrian issue Moscow has threatened in Washington after intensified attacks on Aleppo this week. The Kremlin said that will continue to support the regime of Bashar al-Assad.
Russian planes bombed Syrian hospital, has died. The world sends Moscow more
Policy
October 2, 11:35
1 of 5

© Reuters

1 of 5

© Reuters

1 of 5

© Reuters

1 of 5

© Reuters

1 of 5

© Reuters
© Reuters

© Reuters

© Reuters

© Reuters

© Reuters
The EU called for further financial sanctions against Russia over the Kremlin's actions in Ukraine and Syria
TSN. 16:45
Today, 17:21
Add to favourites
The President of the European Parliament Martin Schulz and European Council President Donald Tusk said at a forum in Germany. According to officials, Russia has actively supported right-wing nationalists throughout Europe. And ready to continue to use force in Ukraine.
Comments
comments