"Yanukovych sold Ukraine to Russia". Yatsenyuk five hours testifying in the GPU in the case of the Maidan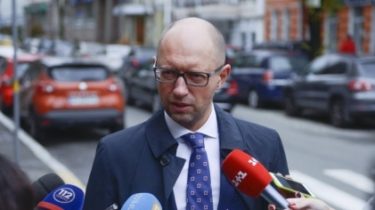 "Yanukovych sold Ukraine to Russia". Yatsenyuk five hours testifying in the GPU in the case of the Maidan
© UNIAN
According to the former policy, you should consider the events leading up to the protest.
Ex-Prime Minister of Ukraine Arseniy Yatsenyuk after the testimony, the Prosecutor's office expressed the opinion that some of the plans for dispersal of the Maidan was carried out with the assistance of the Russian Federation.
Providing testimony lasted more than five hours. Yatsenyuk said that in that case there are several hundred investigators, the press service of "people's front".
See also: GPU was summoned for questioning Yatseniuk and Turchynov
According to a former official, one of the investigative groups focused on developments from January to February 2014.
"But in order to discuss these developments, it was necessary to return to what preceded them: the seizure of power by Yanukovych through the decision of the constitutional court, "the Kharkov agreements", where Yanukovych received the so-called discount from the Russian Federation, and really gave until 2042 Crimea for the Russian black sea military base. Hereinafter, the adoption of a number of acts of Yanukovych, including repeal of Ukraine's membership in NATO," he added.
According to Yatsenyuk, should take into account the causes of the protests on the Maidan, in particular the fact that "Yanukovych sold Ukraine".
"The question is, what were the causes of mass protests. The reason was that Yanukovych renounced the European course that Yanukovych sold Ukraine to Russia, and objectively after all this was Russia. He was in them no more than a political puppet. As part of these plans, including the dispersal of the Maidan, in my opinion, was assisted and supported by the Russian Federation and the Russian special services", – he stressed.
Another of his meeting with the investigator of the GPU is scheduled for October 13.
Earlier it was reported that the GPU is called on interrogation on the case of Euromaidan Ukrainian President Petro Poroshenko, and former Prime Minister of Arseniy Yatsenyuk, the current Secretary of the NSDC Oleksandr Turchynov and the mayor of Kiev Vitali Klitschko.
Comments
comments