The defense Ministry assured that after the withdrawal of forces in the ATO area, the line will not change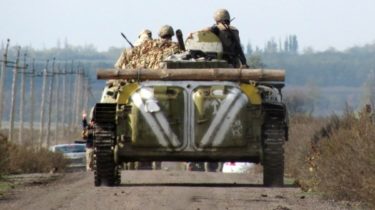 The defense Ministry assured that after the withdrawal of forces in the ATO area, the line will not change
ATO
8 Oct, 18:47
1 of 6

© Ministry of defence of Ukraine

1 of 6

© Ministry of defence of Ukraine

1 of 6

© Ministry of defence of Ukraine

1 of 6

© Ministry of defence of Ukraine

1 of 6

© Ministry of defence of Ukraine

1 of 6

© Ministry of defence of Ukraine
© Ministry of defence of Ukraine

© Ministry of defence of Ukraine

© Ministry of defence of Ukraine

© Ministry of defence of Ukraine

© Ministry of defence of Ukraine

© Ministry of defence of Ukraine
A kilometer spread the forces in two of the three places – near the Gold and Petrovsky.
The Ministry of defense of Ukraine reported that the situation in the ATO zone in Donbass remains tense. At the same time, it remains controlled, even despite the dilution of forces and means of the demarcation line one kilometer in two places – near the Gold and Petrovsky in the Donbass. However is still not lit power near Stanytsia Luhanska in the Luhansk region.
"The process of withdrawal of forces and means does not affect the line of demarcation, it remains unchanged. The Ukrainian armed forces retain control over the territory. And if they recorded any violations, the troops will return to the forefront. The framework decision clearly defined the characteristics of such violations, in cases which urgently convened a meeting of the Trilateral contact group, which will determine who is to blame and what to do next. The next step works on certain framework decision areas will be a gradual clearance of the area. Thus, there should be a demilitarized safe zone," – said the defense Ministry.
Note that near Petrovsky APU and the militants have spread their forces yesterday, October 7th in the afternoon.
"The process of withdrawal began, as planned, at 11:00. The first signal rocket of white light on the readiness of the units. Then in the sky appeared a missile of green fire, and then appliances moved from their positions towards the place of relocation. Soon the soldiers of the Ukrainian division has completed the download of for car, property and personal belongings and left the position. SCCC in constant interaction with the SMM OSCE coordinated the situation," – said the defense Ministry.
Read also: Russia threw in the occupied Crimea new anti-aircraft missile complexes
Over the course of the breeding observed the patrols of the Special monitoring mission of OSCE in Ukraine.
"Having received information from the Ukrainian side that the unit moves at 1 km from the line of contact, the observers monitored the front line and confirmed that the forces and means of the Armed forces of Ukraine deployed in accordance with the framework decision of the Trilateral contact group. Around 12:40 a signal missiles of white light, the parties were informed that the breeding process completed successfully", – noted in the defense Ministry.
The positions, which recently were military, the clock will be on duty, the servicemen of the Ukrainian side of the JCCC. Here will be equipped Observatory, because according to the framework decision in this area can only be observers SCCC. Also will be constantly monitoring the OSCE representatives.
At the front again bred troops
TSN. 19:30
7 Oct, 19:41
According to the latest Minsk, the so-called framework agreements. On a plot of Bogdanovka-Petrovsky of the Ukrainian army moved now per kilometer. The same claim that was made by the terrorists. As it happened, and most importantly, will benefit from this, refer to the material TSN.
Add to favourites
Comments
comments