The foreign Ministry explained why it could slow Ukraine's Association with EU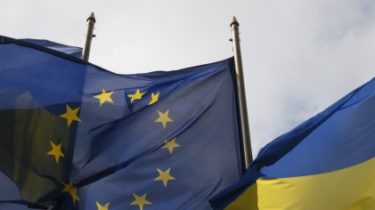 The foreign Ministry explained why it could slow Ukraine's Association with EU
© Reuters
In the Ukrainian diplomatic Department told what will speak at the summit Ukraine – EU.
The Ministry of foreign Affairs published the main provisions that Ukrainian diplomats plan to address during the summit Ukraine – EU.
This broadcast channel "112 Ukraine" said foreign Ministry spokesman Marian Betz.
According to the Ukrainian side, during the meetings we will focus on mechanisms to address issues after the ratification of the Association agreement between Ukraine and the EU, as well as further priorities in the implementation of systemic reforms. A main goal of the summit will be to provide maximum effective support of Ukraine by the EU to counter Russian aggression by extending the restrictive sanctions before the full implementation of the Minsk agreements.
See also: Netherlands disown the revision of the agreement on EU Association-Ukraine
She also said that may prevent the Association of Ukraine with the European Union.
"With regard to ratification, in connection with the referendum in the Netherlands on the agreement, there are certain problems that need to be addressed between the Netherlands and Ukraine, given that now the process is complicated by the fact that the Netherlands has not fully completed this procedure," said Betz.
We will remind, the summit Ukraine-EU will be held in Brussels on 24 November. On 26 September the European Parliament's Committee on civil liberties supported the granting Ukraine visa-free regime. Now a word for deputies of the European Parliament.
April 6 in the Netherlands held a referendum on the Association agreement between Ukraine and the EU. In accordance with Dutch law, it is Advisory in nature and, therefore, the final decision on ratification of the Agreement after internal debate and procedures will be taken by the government of the Netherlands. The results of the referendum were announced in the Hague. According to the turnout of 32.28%, voted against and 61%, 38,21%.
The Netherlands will not ratify the Association agreement between the EU and Ukraine
TSN. Wounds
23 Sep, 09:49
Add to favourites
Prime Minister mark Rutte said this, speaking in Parliament. In the consultative referendum, held in the Netherlands in April, opponents of the Association received the most votes. Rutte himself then campaigned for support of the agreement, and now hopes that Kyiv will be able to negotiate with the other countries of the European Union.
Comments
comments