Trump appeared in scenes from Playboy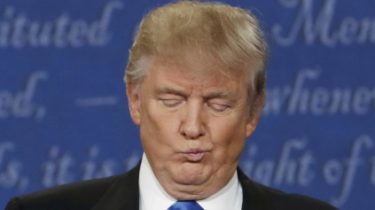 Trump appeared in scenes from Playboy
© Reuters
The future candidate in presidents of the United States are shown, accompanied by playful pretty girls.
The candidate in presidents of the United States , Donald trump turned up in scenes from Playboy.
A 13-second Intro video, filmed in 2000, announced the American edition BuzzFeed.
It then still a businessman and future presidential candidate appears accompanied by playful pretty girls on the streets of new York. He opens a bottle of champagne and pours them a "rabbit" – the brand name Playboy. The tramp says: "Beauty is beauty, let's see what happens in new York."
The publication notes that other scenes from the video that the media did not publish, show fully naked women who pose in sexual poses, dance, touch themselves and each other, rubbing themselves with honey while taking a bath.
See also: American stars responded to the debate, Clinton and trump: Perry Nude photos, berry – fists
We will remind, according to the latest polls, the candidate in US presidents from Democratic party Hillary Clinton is ahead of his opponent-Republican Donald trump 5%. For Clinton would have voted 43% of Americans, trump is 38 and 19 percent of voters said you would not choose any candidate.
Comments
comments