Ukraine begins to warm up. In any first cities of the batteries will become warm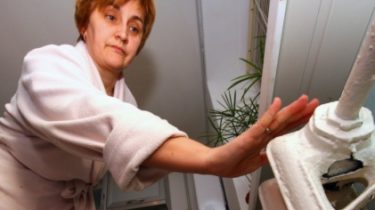 Ukraine begins to warm up. In any first cities of the batteries will become warm
© UNIAN
The heating season should start when for three days the temperature will be kept below 8 degrees.
Today, October 10, the heating season starts in Ternopil. The corresponding decree of the city head Sergey Nadal signed at the end of last week.
Today also starts the supply of heat in kindergartens, schools and hospitals in Kiev.
On Monday, the heat began to apply social and budgetary institutions of the city. Tomorrow, October 11, the batteries will become warm and in the apartments of citizens.
In Poltava tomorrow, October 11, the heating season will begin in the social institutions were, and by the end of the week promised to warm and residents of high-rise buildings.
In General, the heating season should begin, if within three days the daily average temperature stay below +8°C. Forecasters also warn that the cold will come to Ukraine already this week. Public utilities usually need 7-10 days to gradually, with no load on the system, to start the supply of heat to all the houses in the cities.
Comments
comments