All accounts "ukrgazvidobuvannya" blocked because of a debt of almost 28 million UAH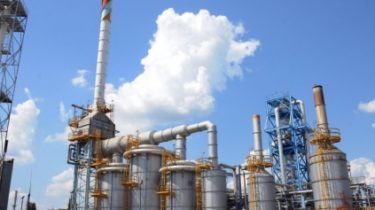 All accounts "ukrgazvidobuvannya" blocked because of a debt of almost 28 million UAH
© UNIAN
In each of the six banks that have accounts "Ukrgazvydobuvannya", was seized totaling approximately 167.5 million UAH.
All accounts "ukrgazvidobuvannya" arrested and stopped any debit transactions such as payment of salaries, remittance of taxes to the budget, and the like.
This was reported in the press center of the company.
Also "ukrgazvidobuvannya" can effectively lead the production activities for natural gas production, which is directed to the needs of the population. Thus, the community is deprived of the opportunity to make payments.
"In connection with the resolution of the GIS on opening of Executive production from 04.10.2016, PJSC "Ukrgazvydobuvannya" in favor of "Promfinans Groups" charged 27 915 of 480.00 UAH. For voluntary execution of the decision of GWL was given a 7-day period from the date of adoption of the resolution, i.e. until 11.10.2016 year", – said the Agency.
The company also noted that in each of the six banks that have accounts "Ukrgazvydobuvannya", was arrested on the full amount of the debt, i.e. for a total of about 167,5 million.
Read also: In Kiev will become warmer gradually. Connection plan of the capital for the heating
In the press center reported, "Ukrgazvydobuvannya" immediately made all necessary actions for debt repayment in the amount of 480.00 27 915 UAH. on the following day reported the GIS. However, the society accounts are still blocked.
According to the report, 10 October the state Executive informed the representative of "ukrgazvidobuvannya" the intention of the GIS of re-collection of nearly 15 million hryvnias in favor of "Promfinans Groups." Removal of arrest from the accounts of the Company have been denied.
According to the company, the above actions not only contradict the legislation of Ukraine, but also will lead to real losses on that amount. The Ministry said that the activity of "Promfinans Group" is fictitious, such as the minimum authorized capital (UAH 100), the absence of employees, the actual absence at the place of registration and so on.
Also, the company said that they were winners of dummy tenders that were conducted by the previous management of "ukrgazvidobuvannya", through which funds were withdrawn in connection with which it appears at least in 4 criminal proceedings.
We will remind, in June, the National anti-corruption Bureau and the Specialized anticorruption Prosecutor's office announced the exposure of an organized criminal group, which caused damage to the state amounting to more than UAH 3 bn as a result of joint activities on the basis of agreements concluded with JSC "Ukrgasdobycha". The organizer of the corruption scheme, according to the NEB, is the people's Deputy Oleksandr Onishchenko.
July 5, the Verkhovna Rada gave its consent to criminal prosecution, detention and arrest Onishchenko. But before it, using parliamentary immunity, left Ukraine. Now Onishchenko is located in London. In the case were arrested other figures, as of mid-August was arrested accounts and property on 700 million.
Comments
comments