McDonald's will limit the performances of his talisman because of the commotion with creepy clowns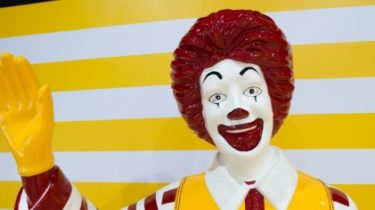 McDonald's will limit the performances of his talisman because of the commotion with creepy clowns
© Getty Images
Scary clowns appear periodically in the US, UK, Australia and Brazil.
Fast food restaurant McDonald's said it would cut the number of performances, mascot Ronald McDonald because of the proliferation of creepy clowns. Not yet reported how many social events with Ronald does not plan to spend.
Creepy clowns first appeared in the United States and then spread to Britain, Australia and Brazil, says the BBC. People dress up in hideous masks and walk through the streets, and this, in turn, causes fear and panic among passers-by.
See also: Psychologists have explained why people are afraid of clowns
These clowns, like in horror films, received wide attention because of the proliferation of photos and videos online.
"McDonald's and the local franchisees are aware of the current situation around the clowns, and we started thinking about the participation of Ronald McDonald in public events," the statement said.
Note that Ronald McDonald is a clown in a red wig and a permanent surprise on his face, which is the mascot of a fast food restaurant.
We will remind, inhabitants of Britain is concerned about the creepy clowns who are becoming more on the streets. A resident of Manchester complained they just looked out the window of his car and was silent, but one of them had a knife in my hand.
Comments
comments