MP Kotvitsky declared elite clothes for more than 400 thousand UAH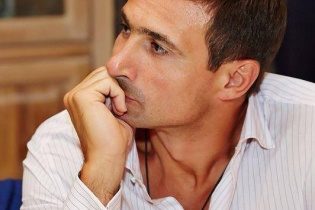 MP Kotvitsky declared elite clothes for more than 400 thousand UAH
© Facebook / Igor Kotvitsky
In the declarations specified bag by Christian Dior and coat from luxury brand Loro Piana.
On the website of the Unified state register of declarations of the people's Deputy from "popular front" Igor Kotvitsky declare changes in their financial situation.
In the Declaration the people's Deputy pointed purchased September 30, 2016 jacket Brunello Cucinelli value 101 474 UAH, suit of the same brand for 109 615 UAH, bag by Christian Dior for 95 950 UAH and coat Loro Piana for 127 933 UAH.
The MP is also a business partner and close associate of the Minister of internal Affairs Arsen Avakov.
Last year, in an interview to Ukrainian truth, the Minister acknowledged that the control of the company partially saves the Deputy from "popular front", his business partner and close ally Igor Kotvitsky.
"Kotvitsky on private assets remained in these shares. Because I then went out completely, and he was left to share. Moreover, his team is still engaged in contract management of some companies," – said Avakov.
It is worth noting that in 2014 Kotvitsky on accounts in banks and other financial institutions had 970,92 million UAH. In addition, increased the total amount of its gross income from 26.06 to 71.9 million UAH.
In 2015 Kotvitsky was a business partner of the family of the Minister of internal Affairs Arsen Avakov. At the time of election as MP he was a member of the Supervisory Board – Vice-President of JSC "Investor", which specializiruetsya on providing information, Advisory and marketing services, wholesale trade, and renting office space.
Chairman of the Supervisory Board – President of JSC "Investor" until 2013, was the Governor Arsen Avakov, and now this post is his wife, Inna Avakov. According to the official information Agency on development of stock market infrastructure of Ukraine, as of 2013, Inna Avakov owned 42,064% of shares of PJSC "Investor", of 1.69% belonged to the son of Alexander Avakov and 9,566% had Kotvitsky.
Comments
comments