Pieces of metal and destroyed cars in Kyiv in the aftermath of a bloody accident killed the driver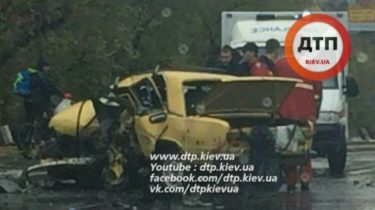 Pieces of metal and destroyed cars in Kyiv in the aftermath of a bloody accident killed the driver
Kiev
10 Oct, 19:37
1 of 9

© facebook.com/dtp.kiev.ua

1 of 9

© facebook.com/dtp.kiev.ua

1 of 9

© facebook.com/dtp.kiev.ua

1 of 9

© facebook.com/dtp.kiev.ua

1 of 9

© facebook.com/dtp.kiev.ua

1 of 9

© facebook.com/dtp.kiev.ua

1 of 9

© facebook.com/dtp.kiev.ua

1 of 9

© facebook.com/dtp.kiev.ua

1 of 9

© facebook.com/dtp.kiev.ua
© facebook.com/dtp.kiev.ua

© facebook.com/dtp.kiev.ua

© facebook.com/dtp.kiev.ua

© facebook.com/dtp.kiev.ua

© facebook.com/dtp.kiev.ua

© facebook.com/dtp.kiev.ua

© facebook.com/dtp.kiev.ua

© facebook.com/dtp.kiev.ua

© facebook.com/dtp.kiev.ua
The preliminary cause of the accident – leaving on a counter strip.
A terrible head-on accident with serious consequences occurred in Kiev.
About this Facebook reported in the community dtp.kiev.ua.
The accident occurred on Brovary Avenue near the Park. The accident was actually destroyed vases. Killed the driver. The Audi driver, who was also hurt in the accident, were hospitalized.
At the scene working rescuers of gschs.
According to preliminary data, the cause of the accident was driving into the opposite lane of the car VAZ. At the scene works investigative team.
Also read: Top 10 terrible accident this week: a selection of the most serious accidents in Ukraine
We will remind that earlier in Kiev on the Obolon has occurred a large road accident, which injured three people.
The accident occurred on the street Novokonstantinovskaya. The driver of the Isuzu was trying to avoid two drunken pedestrians who ran across the road and crashed into an oncoming Subaru.
In Bukovina, after a head-on collision car seven people were in the hospital
TSN. 16:45
10 Oct, 17:02
Later that evening two cars at breakneck speed collided head-on. In one car was a group of young people – four guys and one girl, the other was driving the couple with a small child. As a result of collision both cars broke. In the accident suffered the most is a woman with kids. The girl was taken to the intensive care unit, she has a skull fracture and a brain coma.
Add to favourites
Comments
comments