"Silent mode" from terrorists: ATO fighters fired mortars and rocket launchers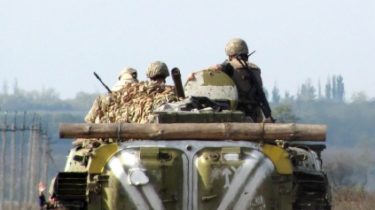 "Silent mode" from terrorists: ATO fighters fired mortars and rocket launchers
Over the past day the terrorists in the Donbas 44 times opened fire© Ministry of defence of Ukraine
Ukrainian troops several times was forced to open fire in response.
Over the past day the terrorists in the Donbas 44 times opened fire on positions of Armed forces of Ukraine.
In particular, in Mariupol direction fixed 34 fire, said the Ministry oboni.
See also: Dnipro took several boards with the wounded in the ATO area
"Violate "silence mode", the enemy several times opened artillery fire from 122-mm mortars 120-mm at Shirokino and Water. In the direction of Taramchuk, Marinka, Talakivka and Lebedinsky militants used mortars 82 mm and 120 mm. The intensity of fire invaders in this area the line of demarcation was maintained day and night," – said the military.
At the same time in the direction of Lugansk recorded 7 violations "regime of silence": a provocation was arranged in the areas of Novoaleksandrovka and Novozvanovka. So, the ATO forces, the militants fired rocket-propelled grenades, machine guns, anti-tank missile systems, small arms and mortars at the same time. On Donetsk direction there were 3 attacks, in particular, to the defenders of Novgorod recorded sniper fire.
See also: In the area of ATO wounded 10 soldiers, the number of hospitalizations is growing – TSN sources
Also in this area the enemy was firing from grenade launchers, machine guns and small arms. And in Avdeevka fighters besides used tube artillery calibre 122mm. Force ATO several times was forced to open fire in response, while using only machine guns, grenade launchers and small arms, said the defense Ministry.
Earlier intelligence reported that the militants were planning the withdrawal of its groups under the village of Lugansk. However, the Ukrainian military emphasize that you first need to stop the attacks and then to talk about the challenge.
Ukraine threatened to freeze the conflict in the Donbass
TSN. 16:45
Yesterday, 17:34
Add to favourites
French President Francois Hollande warned that the status of Donbas may become frozen if Minsk does not wish to comply with. He stated at the parliamentary Assembly of the Council of Europe. Noting that he considers a priority issue for local elections, not the return of Kyiv control over the Ukrainian-Russian border.
Comments
comments