Ukrainian military grenade destroyed an enemy BMP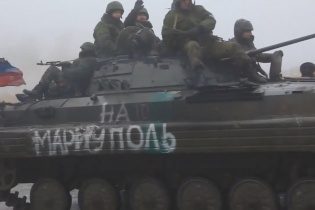 Ukrainian military grenade destroyed an enemy BMP
Illustration© 1stvc.net
Hit the target the first time.
Marinka Ukrainian military burned the enemy armored vehicle. All night the militants fired at Ukrainian positions, applied, and BMP. But did not realize that the Ukrainians also know how to respond. Grenade directly hit the target the first time, says the story TSN.16:45.
The fourth day the enemy conceals Marinka constantly – the military has virtually no ability to raise their heads. The terrorists firing on the Ukrainian positions mainly from BMP. Combat machine of the enemy fired on the eve of the house.
Soldiers themselves admit that they tried to adhere to the ceasefire until recently. But the answer still had.
If the map is to look at Marinka, it becomes clear that the border with occupied Donetsk and the village of Oleksandrivka she has not, therefore, the enemy is everywhere.
The soldiers are happy that, despite the attacks, there were no losses. Is that got their car.
Marinka our soldiers burned the enemy armored vehicle
TSN. 16:45
Today, 16:57
Add to favourites
The gunmen after firing 82 mm mortars on Ukrainian positions, decided to shoot infantry fighting vehicles. However did not realize that Ukrainians are also well able to answer. Grenade directly hit the target the first time.
Almost to the middle of the night the Russian mercenaries did not calm down and Ukrainian military again and again had to answer.
"Burned them well, about the waste heap burning, black smoke was," said the soldier APU.
Only towards the morning the guns of the separatists finally paused and gave the soldiers a break.
Recall, on the eve of fighters of anti-terrorist operation militants fired mortars and anti-tank missiles.
By TSN correspondent Evgeniy Nazarenko
Comments
comments