Australian photographer near videotaped fascinating jump of 36-tonne whale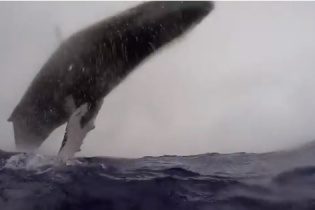 Australian photographer near videotaped fascinating jump of 36-tonne whale
So close to remove the giant jump has not succeeded.
Photographer from Australia Beat pilgrim videotaped a jump of 36-ton humpback whale.
So close to jump off a giant whale in the video the first time ever.
See also: In the Internet appeared the video, like a pack of whales attacked SAP-bordistov in the middle of the ocean
There are several theories as to why whales jump out of the water. On one of them, so they can communicate with their fellows on the other – with the help of jumping whales dropping from the body of parasites.
Comments
comments