In Kiev want to extend the prohibition of night sales of alcohol on all of Ukraine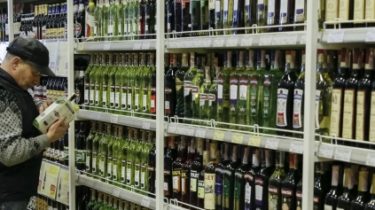 In Kiev want to extend the prohibition of night sales of alcohol on all of Ukraine
© Reuters
The experience of several cities that began on this path, far from uniqueness.
This night in Kiev for the first time earned a decision of the city authorities, which prohibits the sale of alcohol in shops from 23:00 p.m. to 10:00 am. At this time, legally you can only buy alcohol in restaurants and bars, according to a story TSN.19:30.
"I think we'll do a separate letter to the owners to online retailers to deliver note of this decision. Because, despite the fact that there was quite a large resonance in the media, some businessmen still pretend it is not accepted", – said the initiator of the ban, city Council Deputy Vladislav Mikhailenko. Offenders want to punish the deprivation of a license to sell alcohol. However, sellers of these threats is not very valid.
In the capital, banned the sale of alcohol at night
TSN. 19:30
Yesterday, 20:50
Add to favourites
Now in the dark time of the day in Kiev will be able to purchase alcohol only in cafes and restaurants. Violators will be punished and adminstrate, and revocation of the license. The decision of the city Council, the reaction of Kiev and the experience of other Ukrainian cities, see the material TSN.
In one of the chain supermarkets on the eve assured that the decisions of local councils are recommendational character and not the force of law. An additional argument in its favor is called like this: if you will cease to sell alcohol in supermarkets, it will sell a fraud and adulteration that much more dangerous. "Nalivaiko, doorways – of unknown origin products, the quality is also. In addition, there are economic issues. Alcohol is excisable, and shadow turnover of any tax will not pay" – say the sellers.
In Sumy ban the sale of alcohol after 22:00 is almost 4 years. But it's not upsetting the local drunks. They say that even though day and night your 100 grams will find no problems. "Where are the cash registers, sell up to ten. Where there are no cash registers – sell until morning. And you know the stores where they sell at the cash register without any problems. He who seeks will always find" – says one of them.
Klitschko has made concessions to the Mafs. A ban on the sale of alcohol in kiosks delayed
Kiev
Today, 04:43
1 of 8

© Dnia

1 of 8

© Dnia

1 of 8

© Dnia

1 of 8

© Dnia

1 of 8

© Dnia

1 of 8

© Dnia

1 of 8

© Dnia

1 of 8

© Dnia
© Dnia

© Dnia

© Dnia

© Dnia

© Dnia

© Dnia

© Dnia

© Dnia
In Ternopil, the ban is valid longer than 6 years. In recent years, most convenience stores have ceased to work at night – it is unprofitable. However, crime was reduced.
At KCSA say that they plan to cooperate with other cities, to eventually a ban on night sale of alcohol in Ukraine.
The TSN reporter Valeria Kovalinskaya
Comments
comments