To the Day of defender of Ukraine in Kiev could plan bloody sabotage – Shkiryak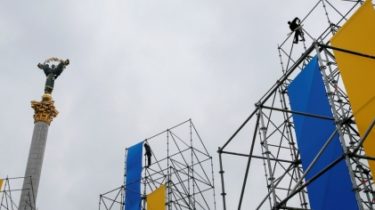 To the Day of defender of Ukraine in Kiev could plan bloody sabotage – Shkiryak
© Reuters
The interior Ministry noted that the plans of Russian special services failed.
On the Grushevsky street in downtown Kiev found a warehouse with ammunition that could be used for sabotage during the March of patriots to the Day of defender of Ukraine in the capital.
This was announced by adviser to the interior Minister Zoryan Shkiryak.
According to him, the hiding place was located in a nonresidential premise. There were grenades, 5 grenades RGD and f-1, 1,5 kg of TNT and several hundred rounds.
"Probably the bloody anti-state sabotage by hostile forces (Russian security services) were planned to carry during the March of Patriots, dedicated to the Day of the Holy virgin – the Day of Defender of Ukraine. Caches of the terrorists were on the route of the planned marches. Now proceed it is investigative-prompt actions, investigated all the circumstances," he wrote.
Shkiriak added that the Russian special services will not destroy the Ukrainian soldiers holiday, despite all the efforts.
"All ceremonies will be held according to the plan, according to applications filed by the organizers. Units of the interior Ministry, Netpolice, the national guard and the SBU will be in a state of high alert and will immediately respond to any calls. Kremlin provocations will not pass", – he added.
Earlier the President of Ukraine Petro Poroshenko his decree abolished the defender of the Fatherland Day, which is annually celebrated on February 23 and established another holiday – every year on 14 October, the day of the Holy virgin, the UPA and the Ukrainian Cossacks will celebrate Day of the defender of Ukraine.
This year in Kiev on the occasion of inauguration of multi-exposure "Defender of Ukraine" and the streets will host the "March of the nation."
Comments
comments