Hundreds of Kyivans risk to spend the winter without heating from-for the conflict to the housing Department boiler room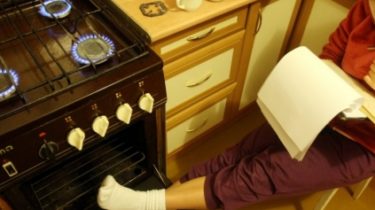 Hundreds of Kyivans risk to spend the winter without heating from-for the conflict to the housing Department boiler room
© UNIAN
The heating season started in Ukraine, but not for all.
In Ukraine, the heating season began. In the government report that more than half of the houses should be warm, says the story TSN.19:30.
In Zhytomyr kindergarten No. 34 quiet time. Children clothing hiding under the warm blankets, because in the morning the room was a +12. "Now the group of about 16 degrees. It also has a heater. In the bedroom a little bit lower, but there are kids covered with a warm blanket, tights and high knee socks lying in Cribs," – said the head of Larissa Yurchenko.
In the homes of Ukrainians gradually include heating
TSN. 19:30
Today, 19:47
Add to favourites
In Ukraine, the heating season began. More than half of the homes already heat – so accountable to the government. The rest will get a comfortable temperature in homes within five days. Besides, the cyclone brought cold, tomorrow will leave the territory of the country and until the end of October a little warmer. Heat in Kiev today there is only 16 percent of homes. The rest is heated by the heaters.
In the younger group, where the list of 37 children, today only 14. 5-year-old model mom took before quiet hour that the child is not frozen. "Take to awake, because you do not want to freeze. Legs she had a cold. Just changed, removed Slippers, really cold feet," says gitomirska Tatiana Kopanitsa.
At the selector meeting in the Cabinet temperature is over +20. Officials from Zhytomyr report that they have all the heat: energy secured 95% in institutions. The governors talk about their readiness for winter. The Western regions have already turned on the heat in the East are preparing, in the South, expect cold weather. Gas, coal and electricity there, say in the Cabinet. "The knockers and the populists, what you say, all is lost, everything is bad, Ukraine is not ready for the heating season, I can say: colleagues, relax. Everything will be fine, houses will be warm, "- said Prime Minister Vladimir Groisman.
Insulation of attic is the best way to save money on heating
Money
Today, 20:23
1 of 4

©

1 of 4

©

1 of 4

©

1 of 4

©
For several weeks, can not relax family little climate control. At the entrance of the Kiev house on the street Bolotovskii there was an announcement – heat in the winter, don't wait. The local housing office and boiler room can't agree among themselves who to whom and how much should. Hostage of hundreds of residents. "I can't even imagine how it would be. Children all sick. What happens in the winter – I'm afraid to imagine. Going to buy something, to warm up. Something to think about," says a resident of Kiev Vadim Malutin.
Heat in Kiev today appeared only in 16% percent of homes. The rest are heated by the heaters. The Prime Minister ordered to turn the heating on for 5 days.
The TSN reporter Igor Bondarenko
Comments
comments