Putin acknowledged that protects the Donbas Russian-speaking population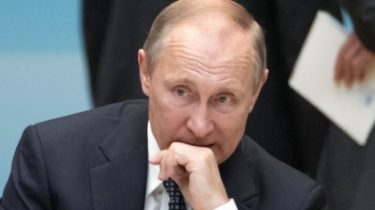 Putin acknowledged that protects the Donbas Russian-speaking population
© Reuters
Also, the Russian President called protection of the population of the annexation of Crimea.
Russian President Vladimir Putin admitted that Russia was forced to protect the Russian speaking population in the Donbas and in the Crimea.
As reports UNIAN correspondent in the RF, he said this at the forum "Russia calling".
"I emphasize that we had to protect the Russian speaking population in the Donbass, were forced to respond to the desire of people who live in Crimea to rejoin Russia", – Putin said.
At the same time he was indignant that the West immediately began to roll out "a new flywheel anti-Russian policy and the imposition of sanctions."
As is known, the Russian President has always denied any accusations of military support to insurgents in the Donbas. Rejected even that was in the Donbas military instructors. And during last year's press conference, he suddenly changed his rhetoric.
Note that this story was with the Crimea. First, Putin admitted that Russian military are present there, so everyone called them "little green men". Later, however, he also acknowledged that it is the Russian military.
In respect of Donbass, during the whole time that lasts the armed conflict, hosted by Russia, Putin kept saying that "our military is not there". For example, 14 APR 2014 during the direct line with Russians, Putin called the Russian military presence in Donbas nonsense.
Comments
comments