The controversial construction of the project "Heroes of Dnepr" will continue – KSCA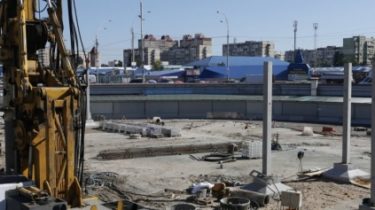 The controversial construction of the project "Heroes of Dnepr" will continue – KSCA
© UNIAN
In KSCA called the Builder the winner of the public hearings regarding the construction of SEC.
At the public hearings on construction of shopping center above the metro station "Heroes of Dnepr" in Kiev, which took place on September 29, allegedly won by the developer.
The corresponding Protocol was published by the press service of the KSCA on its official website.
As they say on the fourth sheet of the Protocol, 94 voted against – 7.
"Decided the following public hearings: to oblige KA "Kiev underground", the State architectural and construction Inspectorate and other Supervisory authorities to ensure the safety of citizens and the monitoring of construction works at the metro station heroes of Dnepr, to coordinate the overall project of the reconstruction of the metro station Heroes of the Dnieper and the construction of shopping complex at the intersection of Geroev Dnieper and Obolon prospect, taking into account proposals and comments from the public, to charge the initiative group to work out written proposals received during the discussion and enter them in the Protocol of public hearings to recognize a public hearing on the issues of improvement and construction of shopping complex at the intersection of Geroev Dnieper and Obolon prospect held in accordance with the current legislation", – stated in the document signed by the presiding Manziuk, L. F. and Secretary Lewgoy M. G.
In turn, the representative of the initiative group Oksana Karpenko immediately after the public hearings, which were held on the street, because the premises of the school where it was planned to gather, could not accommodate all wishing to take part in the event, reported that more than 300 people voted against the Mall and only one participant in the hearings spoke in favor of the construction. According to her, the decision is issued in a Protocol to be signed and submitted to the KSCA.
Recently, at the exit of the metro station "Heroes of Dnepr" started the construction of the shopping center. The land inside the interchange was fenced and drove construction equipment. Not indifferent people of Kiev need to stop construction of the Mall, residents of the area believe that the construction would destroy the station and life threatening.
In turn, in the metro assured that the construction of the Mall is quite safe, but people are totally against it and demand to stop construction work. Activists block traffic and try to attract the attention of the Kiev authorities to this problem.
The mayor of Kiev Vitali Klitschko said that work on the "Heroes of Dnepr" are planned and aimed at strengthening the subway station.
Comments
comments