The guards of the Kiev supermarket severely beat a man feet due to theft of goods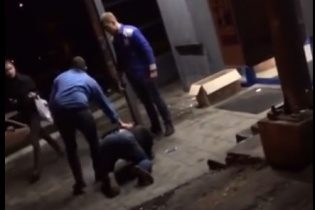 The guards of the Kiev supermarket severely beat a man feet due to theft of goods
© Screenshot
Chain stores claim to have fired their employees because of the beating.
The Internet today has begun to spread a video of a fight in the supermarket "ATB" in Kiev. Eyewitnesses recorded the brutal beating men two guards of the store.
This has caused a wide resonance among users of social networks, which angered the behavior of the market.
See photos: Terrible fire in Kiev: the security guard is burned due to the outstanding cigarette
They knocked the man to the ground and began to beat him down. One of them stepped on a man's head and threw his smartphone.
Later, the chief of Department on public relations and the press "ATB" Anna leachman explained it in the video, filmed the finale of the conflict which had arisen after the man, not hiding his intentions, carried the product through unemployed cash management site.
"On a request to pay for the item roughly spoke to the guard. The meaning of – you – nobody and nothing I can not do. Swearing in address conservation and cynical actions provoked the conflict, which ended in a fight," she said.
At the same time, lichman said that employees "ATB" grossly violated the instructions and was dismissed.
"The theft of recorded video surveillance, the man who committed the offence to the police is not addressed," she added.
Also a representative of ATB stated that theft in the stores has increased drastically and attempt to prevent one of them resulted in the murder of a security guard.
"In Zaporozhye on October 10 killed a security guard of shop "ATB", stabbed in the heart, which caused people who did not want to pay for the cognac. The security guard even tried to stop him, just walked forward. Without a doubt, difficult working conditions do not justify the abuse of power, such a situation is unacceptable," – she wrote in Facebook.
Comments
comments