The defense Minister commented on the visit Savchenko in the Donbass militants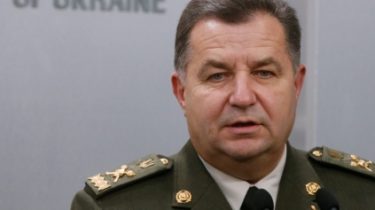 The defense Minister commented on the visit Savchenko in the Donbass militants
© Reuters
According to him, negotiations need to be conducted with the leadership in Moscow.
The Minister of defence of Ukraine Stepan Poltorak called the visit to the people's Deputy Hope Savchenko temporarily occupied territories of Donbass it personal.
Noting that need to communicate with those who started the war against Ukraine, this Poltorak stated today, on 13 October, UNIAN reports.
"I think it's a personal thing MP… I think that in order to negotiate (I don't know who it was Hope in Donetsk, Lugansk), but I know that in Donetsk, Lugansk not those who started this war," – said the Minister, referring that negotiations need to be conducted with the leadership in Moscow.
We will remind, people's Deputy of Ukraine Hope Savchenko, speaking in the session hall of the PACE, said that recently visited the occupied areas and spoke with people who were planted.
She also said that were able to communicate with the "D/LC" in detail so that I felt the change in their attitude.
Earlier, the Donetsk journalist Alexey Matsuka said that Savchenko tried to get to Donetsk a few weeks ago, "paths" through Krasnogorovka for a meeting with Zakharchenko. Savchenko in response, denied his words, and said that generally it was not in the area of ATO.
On a date with the Kremlin's prisoner: what actually Hope Savchenko
Classified material
3 Oct, 12:55
Add to favourites
Nadiya Savchenko, on hunger strike, giving interviews to the Pro-Kremlin journalists, she called for dialogue with the militants and it is called the Kremlin spy. She fights for the release of prisoners of war and for that, she applauded. Many do not believe a word of it, and many increasingly see her as the heroine. The journalist of "Secret materials", invited Nadezhda Savchenko out.
Comments
comments