The Metropolitan police has released details of the undermining of men on the grenade in Kiev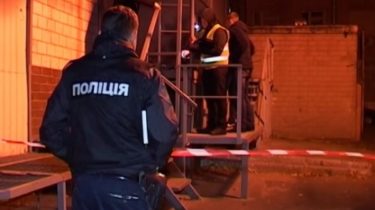 The Metropolitan police has released details of the undermining of men on the grenade in Kiev
Kiev
Today, 13:02
1 of 4

© State of National police of Ukraine in Kiev

1 of 4

© State of National police of Ukraine in Kiev

1 of 4

© State of National police of Ukraine in Kiev

1 of 4

© State of National police of Ukraine in Kiev
© State of National police of Ukraine in Kiev

© State of National police of Ukraine in Kiev

© State of National police of Ukraine in Kiev

© State of National police of Ukraine in Kiev
The second year man was wanted as a deserter.
The man who had blown up the night in Kievturned out to be Cherkashyna-a deserter.
About it reported in Department of communication of the police of Kiev.
"The message on explosion on the Avenue Bazhana did the duty of the Darnytsa police Department 01:34", – stated in the message.
According to law enforcement officers who arrived on call, the body of a man found on a metal ramp at the door of the bakery.
It is also noted that the body of the deceased found multiple lacerations.
"The things that were nearby, police found documents, so quickly established his identity. This 24 – year-old native of Cherkasy region" – said police, noting that the man in 2014 was declared wanted in the Dnipropetrovsk region as a deserter.
With the explosion during the search, seized the pin, the plastic tube from the body of the f-1 grenades, a metal cylinder with a fine-grained substance pink and brown colors, which is reminiscent of the pyrotechnic mixture, the deformed metal fragments and the lever fuse uzrgm-2.
According to the witness, who at the time of the explosion was in the area, of any foreign person close to it is not seen.
Currently an investigation is ongoing, after the expert has established that the grenade exploded F1, militiamen find out all circumstances of incident.
We will remind, earlier in the Zhytomyr region police officer blew himself up with a grenade. The man committed suicide after a domestic conflict at home.
Comments
comments