"Azov" founded a new political party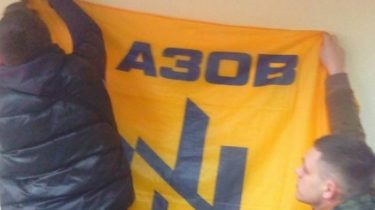 "Azov" founded a new political party
© Photo by Natalia Nagornaya/TSN
It was called the "national body."
Public organization "Civil body basics" on Friday, October 14, presented his own political party the "national body."
This was reported by "Week".
The presentation took place in Kiev at the address Grinchenko, 7 (House of architects).
The head of the "National Body", was unanimously elected as the MP (independent) Andrew Biletsky. He was elected head of the party for a period of 4 years.
It is noted that the Congress was declared the party's program. The Charter specified that the guarantee of national security is a core function of the state, and the Ukrainian soldier – the only real guarantor of the sovereignty and territorial integrity of Ukraine.
See also: "Azovets" Krasnov released from jail
Regarding relations with Russia, the new party declares the recognition of Russia as an aggressor state at all levels of global politics and global diplomacy, and insists on the unilateral denunciation of the Treaty on friendship, cooperation and partnership between Ukraine and the Russian Federation of 1997.
We will remind, in September on the establishment on the initiative of the regiment a new political party, said the commander of "Azov" Andrey Biletsky.
He said this in Mariupol. According to him, the party will be built on the network principle.
Comments
comments