Russia has stepped up aerial reconnaissance on the border with the occupied Crimea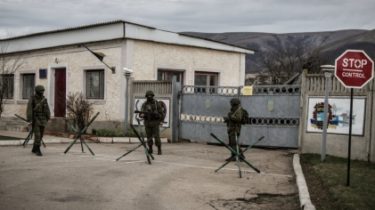 Russia has stepped up aerial reconnaissance on the border with the occupied Crimea
© Getty Images
Russia also adminlogon settles on the Crimea base camp of the Russian Armed forces.
Ukrainian border guards note the high activity of aerial reconnaissance of the Armed forces of Russia on the border with Crimea.
This was stated by the assistant Chairman of the state border service of Ukraine Oleg Slobodyan, writes "Crimea. Realities".
From 6 October, the Ukrainian border guards in Crimea adminlogon recorded flight of six Russian helicopters and, in one case the use of the drone.
The Russian border Agency also practices the use of balloons of the type "Lynx".
According to him, Russia also equips admingranitse in the Crimea the base camp of the Russian Armed forces.
See also: Settlements are not included in the area of breeding forces in the Donbas – Tuk
We will remind that earlier during the exercise, black sea fleet of the Russian armed forces in the occupied Crimea military conducted an unsuccessful missile firing. As a result, two missiles fell into the sea.
Missile firing was conducted at the site of the black sea fleet of the RF armed forces "Opuk" in the framework of the final inspection authorities, associations, connections and parts of armed forces of Russia, informs the Main Directorate of the defence intelligence of Ukraine.
Comments
comments