The day of defender of Ukraine: Kiev at the celebration will be guarded by thousands of law enforcement officers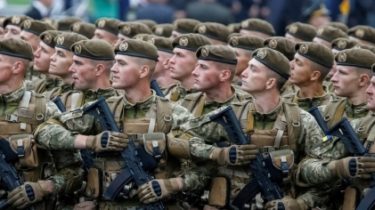 The day of defender of Ukraine: Kiev at the celebration will be guarded by thousands of law enforcement officers
© Reuters
The holiday was created additional operational reserve.
About 4 thousand law enforcement officers will protect the public peace during the celebration of the day of defender of Ukraine on Friday, 14 October.
This was announced by adviser to the interior Minister Zoryan Shkiryak in the air channel "112 Ukraine".
"For the protection of public order in the capital will involve about 4 thousand law enforcement officers. All units of the National police and the National guard will be in a high state of readiness until the completion of the celebrations," explained Shkiryak and noticed that the holiday was created additional operating reserve, which will be held in case of emergencies.
See also: Prayer service and March at the forefront of the nation in Kiev. As Ukraine will celebrate day of the defender
According to the Advisor Avakov, this "great day" he will be in the center and to celebrate the Cover.
"But, of course, the law enforcement bodies during carrying out of mass actions in all circumstances are in a state of high alert, because such events provide a large crowd of people. This can carry the threat of provocations, sabotage and terrorist acts", – said Shkiryak.
Recall that the celebration of the Defender of Ukraine has acquired the status of state on 5 March 2015 and will have to Cover and the Day of Ukrainian Cossacks.
On Friday, a holiday the military has congratulated President Petro Poroshenko and unveiled an inspiring video.
Comments
comments