Poroshenko does not exclude full-scale invasion of Russia to Ukraine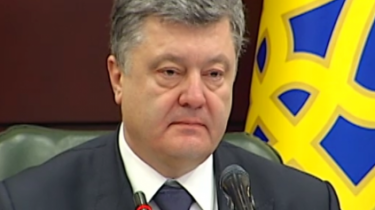 Poroshenko does not exclude full-scale invasion of Russia to Ukraine
Thumbnail for "04_порох"
The President started his working trip to Kharkiv region.
The President of Ukraine Petro Poroshenko started the working visit to Kharkiv region. The plane the President an hour ago landed at a military airfield in Chuguev near Kharkov.
This was reported by UNIAN.
See also: the Day of defender of Ukraine killed two soldiers
During the solemn ceremony of transfer of the next batch of military equipment and weapons the personnel of the Ukrainian Petro Poroshenko has declared that does not exclude full-scale invasion of Russia to Ukraine and assured that the APU is ready to give a good answer. In Donbass remains tense, the President said, a day in the Water the occupiers have released more than 1 thousand mines and shells.
"I insist that the war is conducted, and the protection and defense of our state is not only the Armed forces, it is a matter of all Ukrainian people, of society, of power. All we have to do the maximum possible in order to protect our freedom, our democracy, territorial integrity, and sovereignty", – he said.
See photos: On Donbass the SBU detained a Russian informant who leaked the place of deployment of the APU
"In the case of full-scale Russian invasion, which we, unfortunately, do not exclude, we are ready to give a decent answer, – Poroshenko stressed. Something that no one lost… a sign of training and the level of protection and reliability of our defense."
The head of state believes that Russia in the framework of hybrid warfare attempts to split the Ukrainian society and the state.
"Now more than ever we need the unity of society and the unity of the state. Attempt to split this unity is a very significant element of the hybrid war that Russia is waging today against the sovereign and independent Ukrainian state, " – he concluded.
Comments
comments