Poroshenko introduced the new head of the Kharkiv regional state administration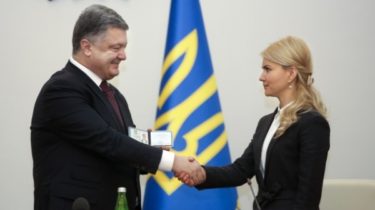 Poroshenko introduced the new head of the Kharkiv regional state administration
Policy
Today, 18:58
1 of 4

© The website of the President of Ukraine

1 of 4

© The website of the President of Ukraine

1 of 4

© The website of the President of Ukraine

1 of 4

© The website of the President of Ukraine
© The website of the President of Ukraine

© The website of the President of Ukraine

© The website of the President of Ukraine

© The website of the President of Ukraine
Svetlichnaya lost the prefix "acting" and became a full-fledged head of the field.
The head of state Petro Poroshenko during a working visit to Kharkiv region announced the appointment of the head of the RSA Yulia Svetlichnaya. The text of the decree posted on the official website of the presidential press service.
Poroshenko presented Svetlichnaya asset Kharkiv region. "Was very hard and competitive competition and it was won Julia A. Svetlichnyi," said the President. He congratulated her with a bouquet of flowers to the applause of the audience. "I am very pleased that our team of heads of regions, state administrations, of which I am proud, there was a fantastic woman-a professional. The positivity of this purpose that the emergence of MS Yulia in politics marks the arrival of a new generation, which grew up and fully developed at the time of independence," – said the Ukrainian leader.
Read also: Poroshenko's visit began in Kharkiv with the transfer of military technology powerful
The new head of region the President assured the full and unconditional support. Poroshenko also took part in the opening of the memorial plate dedicated to the fighters of a special unit of the National guard of Ukraine "Jaguar", 8 April 2014 released the building of Kharkiv regional state administration from separatists. The event was also attended by the Minister of defence Stepan Poltorak and the head of the NSU Yuri Alleron. Senior officials led by the head of state met with soldiers of the 8th regiment of operational use of the Western territorial command of the national guard under "Jaguar" (Vinnitsa), who participated in cleaning the building of HOGA from the Pro-Russian bandits. Poroshenko handed the flag stored in the administration in the dramatic days of April 2014. The head of state thanked all those who prevented the creation of in the region of the terrorist organization "Kharkov people's Republic".
In Naciente for civil service were defined with the candidates for the position of leaders of Kharkiv and Zhytomyr
TSN. Wounds
October 5, 10:04
On Harkishin is Julia Svetlichnaya. In fact, it now leads the region as the acting Chairman of regional state administration. Zhytomyr region can also lead temporary Chairman Igor Gundich. After verification of applicants they have to agree on the President.
Add to favourites
Comments
comments