A dumb animal who liked to kill – the famous volunteer described killed "Motorola"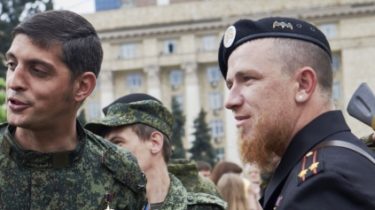 A dumb animal who liked to kill – the famous volunteer described killed "Motorola"
© Getty Images
Hybrid warfare hybrid breeds and their own and destroys – volunteer.
Killed the leader of the militants "DNR", nicknamed "Motorola" before the war in the Donbas was working the wash and took part in several wars.
This was stated by the volunteer, the head of the charitable Foundation "come Back alive" Vitaly Deynega in Facebook.
According to him, the gunman killed the Ukrainian "cyborgs".
"During a rotation in the WCT through the separatist checkpoints were crossed for our military. I asked them about who he really is. And the answer was simple: "I thought he was a dumb animal who just liked to kill," the volunteer wrote.
See also: Explosives on the Elevator cable and killed the guard. The first details of the murder "Motorola"
Recall, one of leaders of insurgents "DNR" Arsene Pavlov, nicknamed "Motorola" was killed on the evening of 16 October. According to preliminary information, it blew up in the Elevator of the house where he lived. In the group "DNR" in the murder of Pavlov blamed "Ukrainian sabotage-reconnaissance group".
Motorola was one of the most cruel militants "DNR". In particular, he shot the prisoner Ukrainian military Igor Branovitskiy. Himself "Motorola" confessed to the murder of the 15 captured military personnel of the Armed forces of Ukraine. In Ukraine he was declared wanted.
Comments
comments