Gerashchenko argues that the process of liberation of the hostages blocked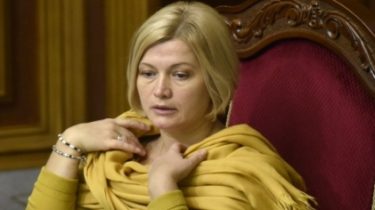 Gerashchenko argues that the process of liberation of the hostages blocked
© UNIAN
The militants held hundreds of Ukrainians in captivity.
Militants in the Donbas continue to illegally hold 110 Ukrainian citizens, and the process of release of the hostages blocked.
This was stated by Vice-speaker of the Verkhovna Rada, Ukraine's representative to the humanitarian subgroup Irina Gerashchenko, says the press service of the Parliament.
Gerashchenko was informed about the difficult humanitarian situation in the Donbass and the implementation of the Minsk agreements. She stressed the importance of the work of the International Committee of the red cross and other international organizations.
She stressed that only joint efforts of the President, the security service of the Parliament and with the support of the international community recently managed to release Vladimir Zhemchugova and UN representative Yuri Suprun.
Also Gerashchenko said that Ukraine now are the key projects aimed at the restoration of Donbas infrastructure, social aid to victims of Russian aggression and to strengthen peace in the East of the country.
Read also: Poroshenko signed a law on payments to prisoners, the military and their families
The Patriarch prayed for the names of Ukrainian prisoners of war
TSN. 19:30
14 Oct, 22:16
Add to favourites
Today, in addition to the day of defender of Ukraine, the feast of the Intercession of the blessed virgin. With friends, with families and children, several hundred people with flags in their hands gathered in Saint Sophia square. In common prayer together with the clergy was attended by Patriarch Filaret. At the request of his Holiness during worship separately prayed for the military and prisoners, remembering each prisoner by name. For Ukraine the people wanted peace, faith, prosperity, support and understanding.
Comments
comments