In Poland, condemned the desecration of a monument to the UPA in Werchrata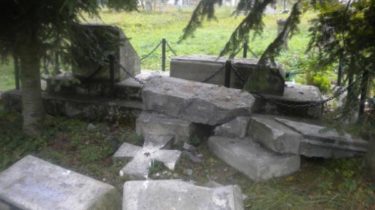 In Poland, condemned the desecration of a monument to the UPA in Werchrata
Policy
Today, 06:28
1 of 3

© Facebook/Bogdan Chervak

1 of 3

© Facebook/Bogdan Chervak

1 of 3

© Facebook/Bogdan Chervak
© Facebook/Bogdan Chervak

© Facebook/Bogdan Chervak

© Facebook/Bogdan Chervak
Civic organizations appealed to the poles, urging them to reject the language of hate.
Polish non-governmental organizations condemned the destruction of the monument to soldiers of the UPA.
This statement was posted on Facebook, the President of Solidarity Fund PL, former Minister of foreign Affairs of Poland Krzysztof Stanowski.
"Leaning over the graves in Werchrata and the Monastery, we apologize and urge: no our consent to the destruction of graves, cemeteries, monuments! Know that they are part of a difficult past. In Poland there is the perpetuation of the occupation, uprisings, the Swedish deluge, the two world wars. A Polish tradition is the respect for the dead! May you rest in peace," the statement said poles.
Public organization appealed to its citizens urging them to reject the language of hate, to condemn the destruction of tombstones, aggressive graffiti and attacks on people.
See photos: In Poltava vandals smashed five memorial plaques in honor of fallen soldiers ATO
We will remind, earlier in Munich, the vandals poured black paint the grave of Bandera. The burial place of the leader of the OUN, not for the first time is under attack.
Comments
comments