"The Kremlin's go-ahead and murder her. Became known version of the death of "Motorola"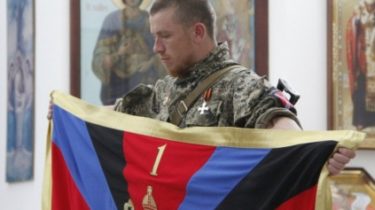 "The Kremlin's go-ahead and murder her. Became known version of the death of "Motorola"
© Elena Pavlova Vkontakte
The network actively discussing the details of the death of the gunman.
Militants "DNR" Arsen Pavlov ("Motorola") allegedly destroyed the Abkhaz terrorists after "the bidding of the Kremlin for a long tongue of his wife".
About it, referring to insider information, written by a volunteer Roman Donica on my own page on Facebook.
"Flunked" "Motorola" people of Abkhazia (Akhra Avidzba) – commander tag (15th international brigade). Summer wanted to kill "Motorola" for the fact that his wife nahuliganil in Abkhazia and called Abkhazians cream [email protected] Financed share Stavros Bagatelle that Zakharchenko was appointed looking for pressed network ATB", – stated in the message on the social network.
They say that the Abkhaz have long asked people from the Kremlin permission for the removal.
"And only now allowed. After the return of "Motorola" from a trip to sweep the rebels in Luhansk," said Donica.
See also: In the Internet appeared the video and photos from the scene of the murder "Motorola"
Another version of the reasons for the murder, "Motorola" was expressed by the reporter Shahida Tulaganov on his Facebook.
"Killed "Motorola" – it was inevitable. Killed her, there is a Ukrainian DRG, resentment grew in Sparta," she said.
According to Tulaganova, she was one of the few Western journalists with whom Motorola is effortless.
"That was a tough person, a thin felt, he knew that he committed a war crime, killing of a prisoner. Eyes of steel, cold…", – said the details of the journalist.
See also: In the Internet appeared the video and photos from the scene of the murder "Motorola"
Recall, one of leaders of insurgents "DNR" Arsene Pavlov, nicknamed "Motorola" was killed on the evening of 16 October. According to preliminary information, it blew up in the Elevator of the house where he lived. In the group "DNR" in the murder of Pavlov blamed "Ukrainian sabotage-reconnaissance group".
Motorola was one of the most cruel militants "DNR". In particular, he shot the prisoner Ukrainian military Igor Branovitskiy. Himself "Motorola" confessed to the murder of the 15 captured military personnel of the Armed forces of Ukraine. In Ukraine he was declared wanted.
Warlord of DNR Motorola has purchased a car for half a million hryvnias
TSN. Wounds
March 31, 2015, 12:29
Add to favourites
Such generosity of her husband boasted of his wife, laying in the social network photos. And this is not the only profit of the militants. While the inhabitants of the occupied territories do not have enough bread, the former commander of the DNI Girkin goes on a luxury Mercedes.
Comments
comments