Now wait for: the death of "Motorola" Zakharchenko was considered a Declaration of war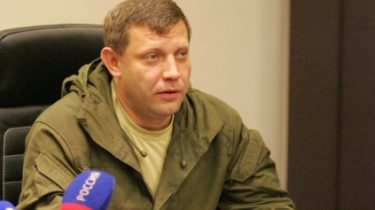 Now wait for: the death of "Motorola" Zakharchenko was considered a Declaration of war
© Getty Images
The head of "DNR" declared that Poroshenko broke a truce.
The death of one of the leaders of the group "DNR" Arsene Pavlov, nicknamed "Motorola" means that the President of Ukraine Petro Poroshenko has broke the truce and declared war.
This was stated by the leader of the terrorist "DNR" Alexander Zakharchenko, RIA Novosti reported.
"I understand, Poroshenko broke a truce and declared war on us," said Zakharchenko.
"Now wait," he added.
See also: "On the lift with the wind": social media users have reacted to the death of "Motorola"
Also Zakharchenko said that proceed quickly-investigative actions for establishment of, "who ordered and who carried out this murder."
"Incidentally, we already know (customer – ed)", – said Zakharchenko.
He appealed to the Ukrainian military, security service and Main intelligence Directorate of the defense Ministry that all members of the law enforcement agencies operating in the occupied territories and their families, now are "beyond the law".
"Not only here, but in the Zhytomyr, Kharkiv, Dnipro, Kiev … When we come to your home, no mercy for you will not. … This death is not just a challenge, but a challenge to the whole" Republic " . Go now and be afraid " – said the leader of the militants.
We will remind that one of leaders of fighters of "DNR" Arsene Pavlov, nicknamed "Motorola" was killed on the evening of 16 October. According to preliminary information, it blew up in the Elevator of the house where he lived. In the group "DNR" in the murder of Pavlov blamed "Ukrainian sabotage-reconnaissance group".
Motorola was one of the most cruel militants "DNR". In particular, he shot the prisoner Ukrainian military Igor Branovitskiy. Himself "Motorola" confessed to the murder of the 15 captured military personnel of the Armed forces of Ukraine. In Ukraine he was declared wanted.
Comments
comments