The explosives on the Elevator cable and killed the guard. The first details of the murder "Motorola"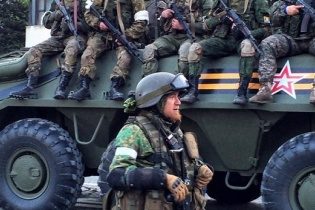 The explosives on the Elevator cable and killed the guard. The first details of the murder "Motorola"
© Apostrophe
As explosives used plastid – media.
Became known the first details of the murder of one of leaders of the terrorist "DNR" Arseniy Pavlov, known by the nickname "Motorola".
This writes kp.ru.
According to the publication, the explosives used plastic explosive and the explosive device was fixed on the Elevator cable. According to eyewitnesses, there was a pretty powerful explosion.
According to the publication, along with the "Motorola" his bodyguard was killed.
And the head of the "National Council of DNR" Denis Pushilin said about one killed and several wounded, reports RIA Novosti.
See also: In the Internet appeared the video with the alleged "killers "Motorola"
We will remind that one of leaders of fighters of "DNR" Arsene Pavlov, nicknamed "Motorola" was killed on the evening of 16 October. According to preliminary information, it blew up in the Elevator of the house where he lived. In the group "DNR" in the murder of Pavlov blamed "Ukrainian sabotage-reconnaissance group".
Motorola was one of the most cruel militants "DNR". In particular, he shot the prisoner Ukrainian military Igor Branovitskiy. Himself "Motorola" confessed to the murder of the 15 captured military personnel of the Armed forces of Ukraine. In Ukraine he was declared wanted.
Comments
comments