Yaroslavl will focus 91,76 % stake in HTZ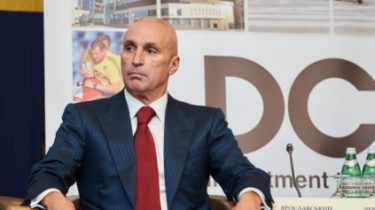 Yaroslavl will focus 91,76 % stake in HTZ
According to the DCH, in June this year, a meeting of the businessman with Poroshenko.
Aleksandr Yaroslavskyy will become virtually the sole owner of the JSC "Kharkiv tractor plant" after you buy shares of an abandoned Austrian investor Siegfried wolf. As reported the press service of DCH, upon completion of the transaction Aleksandr Yaroslavskyy will focus 91, 76 % of the shares in Khartsyzsk pipe".
Recall that Siegfried wolf has changed its intention to invest in the development of Khartsyzsk pipe because of the position of the Antimonopoly Committee of Ukraine. "In recent years it became evident to me that despite our joint efforts, an unprecedented campaign of pressure against Khartsyzsk pipe plant launched by some Ukrainian government officials will not end. Ukrainian Antimonopoly Committee has rejected a petition to DCH for approval of the acquisition of a controlling stake in the plant three times. Since the approval of the Antimonopoly Committee was a prerequisite to complete my transaction for my purchase of a minority stake in HTZ, I can only interpret this as a manifestation of lack of interest on the part of Ukrainian authorities in attracting the best European business practices, and outright disregard of the interests of foreign investors", – said the businessman.
At the same time, the issues of revival of the Kharkiv tractor plant Alexander Yaroslavsky and his managers have repeatedly discussed with Ukrainian politicians and foreign diplomats. According to the DCH, in June this year, a meeting of the businessman with the President of Ukraine Petro Poroshenko, July 13, with former U.S. Ambassador to Ukraine Geoffrey Pyatt, and September 23 with the current U.S. Ambassador to Ukraine, Marie Yovanovitch. In addition, the management of Khartsyzsk pipe met with the first Deputy Prosecutor General of Ukraine Dmitry Storozhuk, who is the head of GPU, Yury Lutsenko instructed to study all the facts of pressure on Russian business coming directly from the entrepreneurs and enterprises. And at an investment forum in Kharkiv in late September, Yaroslavsky plans to restore enterprise work was supported by the key speakers of the VIII International economic forum "Innovations. Kharkiv initiatives!", including the Minister of internal Affairs of Ukraine Arsen Avakov.
As we know, Oleksandr Yaroslavsky is the owner and beneficiary of the DCH group (Finance, development, transport, etc.), No. 8 ranking Forbes 2015 General investor of Kharkiv preparation for Euro 2012, has invested 0 million in the preparation of the city's infrastructure for the tournament. The total investment of Yaroslavl in the development of the Kharkiv region is on the order of bn and against the HTZ businessman announced plans to invest in the agricultural and defense equipment 0 to 0 ml.
Comments
comments