Convicted in Russia Ukrainian Klyh refused a lawyer and demanded that the defenders of Stas Mikhailov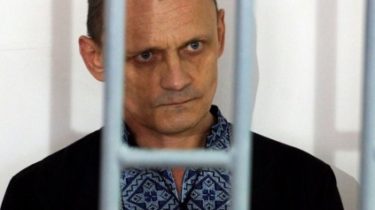 Convicted in Russia Ukrainian Klyh refused a lawyer and demanded that the defenders of Stas Mikhailov
© Facebook/Anton NumLock
The defender of political prisoner believes that he is mentally ill.
Convicted in Russia Ukrainian Stanislav Klyh, who is on trial in Grozny for insulting the Prosecutor, suddenly abandoned the lawyer Marina Dubrovina.
Klyh said at a court hearing on Monday that "twenty years for nothing due to the poor performance of the lawyer," and said that "he wants in his defenders of singer Stas Mikhailov", reports the "Caucasian knot".
The judge Aslambek chaimov invited the Ukrainian to make a written statement about refusal from the lawyer. Klyh took paper and pen and wrote that he refused from the lawyer Dubrovina and as the defender asks, "to provide Zverev, Shura, or pelage".
See also: Ukraine has sent Russia a second request for the extradition of Cliche and Karpyuk
Dubrovina said that he has no right to protect Cliche against his will. However, she noted that at the stage of preliminary investigation to the prisoner torture and psychotropic drugs, with the result that his mental health has seriously deteriorated.
The court adjourned till October 21 to the new appointed protector of Cliche met.
"Mental illness of Stanislaus Cliche most brightly began to be shown from January 2016. He began to behave in a courtroom violently, screaming in a cage built barricades of benches," said Marina Dubrovina.
She was sure that if Klyh was mentally healthy, he would never have insulted the Prosecutor.
"Unfortunately, the behavior of my client for the past months questioning his ability to perceive what is happening in the court session", – said the lawyer.
Read also: Poroshenko told how to fight for the liberation of Cliche and Karpyuk
As you know, Ukraine Russia sent a dozen requests for extradition Karpyuk and Cliche, last sent in August.
Russian prosecutors demanded to put Karpuk at 22.5 years, and Cliche – for 22 years. May 19, the jury recognized Karpyuk and Cliche guilty. Protection of Ukrainians believe that the jury was pressured. The Ministry of justice said that immediately after sentence begins the procedure of extradition of the Ukrainians.
Case Karpyuk and Cliche fabricated by the Russian investigative Committee and it appears the Prime Minister of Ukraine Arseniy Yatsenyuk. Lawyer Ilya Novikov released new details about, in his words, "this sordid history." In it Russia officially declares that in ' 94 Yatsenyuk was nicknamed "fighter Arsen", fought in Chechnya against Russian troops with Alexander Muzychko known as Sashko Bily, and former head of the Lviv organization UNA-UNSO Andriy Shkil and, in fact, now defendants in Chechnya Ukrainians – Karpyuk and Klahom.
Ukrainians Mykola Karpyuk and Stanislav Klyh remain behind bars in Chechnya
TSN. 19:30
17 Mar, 19:49
Add to favourites
The court in Grozny today rejected the appeal of protection and left both in custody until may. The meeting failed to reach Ukrainian and international journalists. An hour before the hall was already crowded with unknown young people – although usually hearing Karpyuk and Cliche are not "sold out." Was not allowed inside and part of the family, who arrived from Ukraine to support their families. To get to the meeting, was only mother Stanislaus Cliche.
Comments
comments