Obama outraged trump flattery to Putin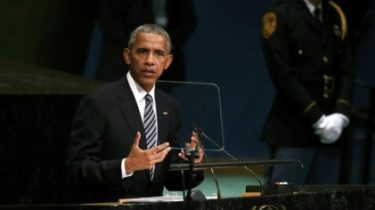 Obama outraged trump flattery to Putin
© Reuters
The American President believes that Putin for trump could be a role model.
President Barack Obama noted that probably a candidate for the Republican presidential nomination, Donald trump sees the Russian President Vladimir Putin is a role model.
This writes the Russian "Interfax".
"Flattery to Putin and to what extent he as if inherits his policies and approach to government, has no precedent in American politics," said Obama.
He noted that trump's attitude to Russia and its leadership has no support among the Democrats or among members of a billionaire.
We will remind that earlier the US President Barack Obama has condemned the promise of Donald trump, if he will win the presidential elections, jailed candidate from the democratic party Hillary Clinton.
About it writes BBC.Russian.
Such rhetoric is the destiny of tyrants and the threat of democracy, Obama said, once again stating that trump has no personal qualities that should be possessed by the President of the United States. In the upcoming elections "will decide the fate of democracy," Obama said at the event in support of Hillary Clinton in Ohio.
The scandal of the trump cost of the work of the journalist of the NBC
TSN. Wounds
Yesterday, 09:04
Add to favourites
In 2005, in a conversation off the record with journalist Billy Bush billionaire trump said that can afford to cross the border in dealing with women, because he is a star. After the appearance of the archival video of the journalist was fired and the environment trump had to make excuses for the actions of their leader. So, the billionaire's wife Melania trump assured reporters that her husband is nothing more than a boyish boast, and he would never allow himself to insult a woman.
Comments
comments