Poroshenko nourishes the hope of meeting in the "Normandy format"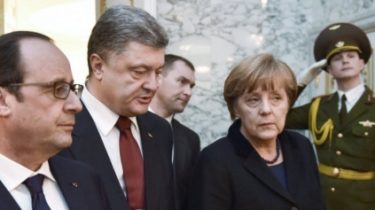 Poroshenko nourishes the hope of meeting in the "Normandy format"
© UNIAN
The President stressed that he was not too optimistic about this meeting.
The President of Ukraine Petro Poroshenko said that we should not exaggerate the expectations from the meeting of the leaders of the "Normandy format".
He said this during a joint briefing with Prime Minister of Norway Ernoy, Solberg, transfers "Ukrainian truth".
"I am quite optimistic about the future of Ukraine, but, unfortunately, not too optimistic about tomorrow's meeting. I'm happy to be surprised," he said.
To the question regarding the implementation by Ukraine of the requirements of the Minsk agreements, he replied: "we have no internal problems, because this was voted in Parliament and is signed by me."
According to Poroshenko, Ukraine needs independent elections in Donbas, which will meet all the criteria of the OSCE.
"Sometimes it is very difficult to understand our Russian partners. Anyone don't need any actions from the Ukrainian side, because, as will be conducted by an independent elections, this law will come into force. Everything depends on Russia. I can't understand how you can hold independent elections, if the Donbass now there are Russian troops", – he stressed.
See also: the Kremlin did not like the message on the website Poroshenko to Normandy meeting
Recall President of Ukraine Petro Poroshenko during a telephone conversation with President of France Francois Hollande and Chancellor of Germany Angela Merkel agreed to a meeting of heads of state "channel format". It will take place on 19 October in Berlin. The leaders of the "Norman format" will encourage Russia to perform a safe part of the Minsk agreements, the press service of the head of state.
Comments
comments