SBU detained ex-police and military on a bribe in $ 200 thousand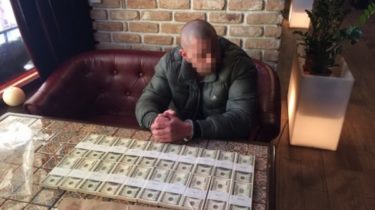 SBU detained ex-police and military on a bribe in $ 200 thousand
Kiev
Today, 20:16
1 of 7

© Press service of the SBU

1 of 7

© Press service of the SBU

1 of 7

© Press service of the SBU

1 of 7

© Press service of the SBU

1 of 7

© Press service of the SBU

1 of 7

© Press service of the SBU

1 of 7

© Press service of the SBU
© Press service of the SBU

© Press service of the SBU

© Press service of the SBU

© Press service of the SBU

© Press service of the SBU

© Press service of the SBU

© Press service of the SBU
For a bribe they are guaranteed the support of the adoption by the court of Appeal of the decision on acquittal.
In Kyiv the security Service of Ukraine detained former law enforcement and military, who demanded $ 200,000 bribe.
About it reported in a press-the SBU center.
"Employees of security Service of Ukraine jointly with the General Prosecutor's office in Kiev detained three participants of an organized group who demanded money for the provision of an acquittal," – said in the message.
Law enforcement authorities established that two former employees of the interior Ministry and the military invited the merchant, who is charged with preparation for intentional homicide, to solve the issue of his dismissal.
See photos: In Ternopil SBU by the thousands for a bribe detained the head of the military
"200 000 dollars they guaranteed the support of the adoption by the court of Appeal decision on acquittal and cancellation of the decision of the court of first instance. Intelligence officers found out that the real possibilities to fulfill a" promise "the attackers were not", – added in SBU.
Was arrested three extortionists in one of the cafes in the centre of the capital during obtaining all sum from a relative of Kommersant, one of them seized a traumatic gun. Now continue searches of a fourth participant group, which was presented by the employee of the prosecution. Open criminal proceedings under article "Fraud committed in especially large sizes or organized group". Now proceed urgent quickly-investigative actions.
We will remind, eks-the officer of the APU, which tried to take to Russia a flash drive with information about the state secret in the sphere of defence was detained by employees of SBU together with frontier guards.
The attacker was detained at the international automobile checkpoint "Bachevsk" on Sunshinin. On the drive owned by the attacker, police found electronic copies of the documents on the activities of one of the military units, defense plans, and lists of participants of the antiterrorist operation.
Comments
comments