Merkel called progress agreement "Norman Quartet"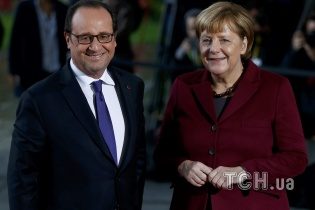 Merkel called progress agreement "Norman Quartet"
© Reuters
For the implementation of the Minsk agreements will create a road map.
German Chancellor Angela Merkel called progress agreement "Norman Quartet" on the establishment of a roadmap for the implementation of the Minsk agreements.
"We discussed a workflow that has many sides and from which to push off while working on such topics as security, political process. And it should be continued in the framework of the roadmap for the various steps of the complex of measures on implementation of Minsk agreements. And this is progress", – quotes the German Chancellor TASS.
Merkel said that work on the roadmap will be conducted by foreign Ministers "channel four" during the month after a meeting in Berlin, and this work more intense. The German Chancellor said that negotiators have developed a version of the roadmap with a large number of inconsistencies.
Read also: Putin confirmed the agreement on the extension of the OSCE mission in Donbass
Angela Merkel said that the "Normandy four" agreed on the access of OSCE observers to the uncontrolled by the Ukrainian government areas of the border between Ukraine and Russia, and also on creation of four zones for the breeding of the conflicting parties in the Donbass.
Negotiations of the participants "channel four" did not go according to script
TSN. Pdsmi day
19 Oct, 23:51
Add to favourites
First reported that the talks ended. However, it later turned out that the negotiations had not ended, and it was only a pause and again they continued.
Comments
comments