Putin confirmed the agreement on the extension of the OSCE mission in Donbass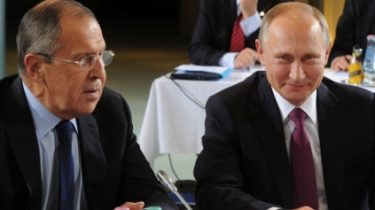 Putin confirmed the agreement on the extension of the OSCE mission in Donbass
© Reuters
The Russian President spoke about the results of the meeting in Berlin.
Russian President Vladimir Putin confirmed that at the meeting of the participating countries "channel four" in Berlin, the parties agreed to expand the OSCE mission.
He said this at a briefing after talks in the German capital, reports RIA Novosti.
"We agreed that we will continue to select those points and places in the area where it will be possible to continue this work [on the breeding of the parties to the conflict]. In two places this withdrawal has already taken place. Confirmed that we are ready to extend the OSCE mission in the zone of removal and storage of heavy equipment," — said the Russian President.
Read also: Merkel called progress agreement "Norman Quartet"
However, Putin noted that progress in humanitarian issues is minimal.
"Decided on some, unfortunately, only some issues of a humanitarian nature. Unfortunately, much was not achieved, but expressed a willingness to resolve issues of a humanitarian nature", — said the President of the Russian Federation.
A smiling Putin and Merkel tense. In Berlin there is a meeting of "Norman Quartet"
Policy
Yesterday, 02:56
1 of 6

© Reuters

1 of 6

© Reuters

1 of 6

© Reuters

1 of 6

© Reuters

1 of 6

© Reuters

1 of 6

© Reuters
© Reuters

© Reuters

© Reuters

© Reuters

© Reuters

© Reuters
Comments
comments